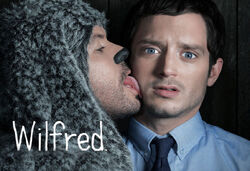 Wilfred (U.S. TV Series) is based on the critically acclaimed Australian series of the same title and was adapted for FX by David Zuckerman (Family Guy, American Dad, King of the Hill).
The series follows a young man named Ryan and his neighbor's dog Wilfred who Ryan sees as a man in a dog suit rather than the regular dog that everyone else sees him as.
Executive producers of the show include David Zukerman, Rich Frank, Paul Frank, Jeff Kwatinetz, Joe Connor, and Ken Conner with Connor and Conner being executive producers of the Australian series as well. It is directed by Randall Einhorn.
The Australian version of Wilfred was written by Jason Gann and Adam Zwar, directed by Tony Rogers and produced by Jen Livingston.
The series ended its fourth and final season on August 13, 2014.
Cast
[
]
Main Cast
[
]
Special Guest Cast
[
]
Recurring Cast
[
]
Episode Guide
[
]
Season One (13 episodes)
Season Two (13 episodes)
Season Three (13 episodes)
Season Four (10 episodes)