Lord Charles "Stinky" Beevwelt II is a character in the show Wilfred. He is portrayed by Jason Gann.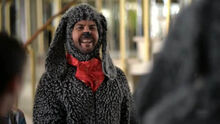 Description
Edit
Stinky is a clone of Wilfred and the only difference between the two physically is a bandana Stinky wears and Stinky's British accent. Stinky differs from Wilfred on a much higher level when it comes to personality. Wilfred is seen more as the typical mutt while Stinky is more elegant and uses words like "dalliance".
Wilfred and Stinky also share dogisms and share many traits including doing drugs, having sex with stuffed animals, hating cuckoo birds and humping couches.
Wilfred's original owner was a wealthy old woman who nicknamed him Stinky. After he ran away, his owner spent $500,000 to make a clone of him. After her death, she left everything to Stinky in her will.
Appearances
Edit
Since Wilfred is a part of Ryan's imagination, Stinky can be considered a part of his imagination as well, just as Bear and Bruce are.
The subplot of Wilfred and Stinky switching places is a parody of the Prince and the Pauper.
Stinky finds Ryan annoying and believed that seeing him die would be orgasmic.
Community content is available under
CC-BY-SA
unless otherwise noted.