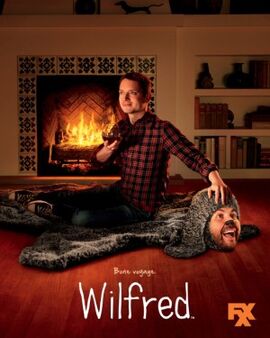 Season 4 of Wilfred (U.S. TV Series) began airing on June 25, 2014. It consisted of 10 episodes, and ended on August 13, 2014. The final season is the only season that premiered on FX's sister channel FXX.
Cast
[
]
Main Cast
[
]
Special Guest Cast
[
]
Recurring Cast
[
]
Guest Stars
[
]
Episodes (2014)
[
]
Image
Title
Writer
Director
Airdate
Episode
Amends
Reed Agnew & Eli Jorné
Randal Einhorn
06/25/14
4.01
With his world in disarray, Ryan has a second chance to make things right.
Consequences
David Baldy
Randal Einhorn
6/25/14
4.02
Ryan and Wilfred's camping takes a sudden turn when an unexpected guest joins them.
Loyalty
Keith Heisler
Randal Einhorn
7/2/14
4.03
Kristen's custody battle has Ryan and Wilfred taking sides.
Answers
Matt Patterson
Randal Einhorn
7/9/14
4.04
Wilfred is the subject of a scientific study; the results are disconcerting.
Forward
Reed Agnew & Eli Jorné
Randal Einhorn
7/16/14
4.05
After enduring a troubling incident, Ryan and Wilfred have radically different explanations for the event.
Patterns
Ted Travelstead
Randal Einhorn
7/23/14
4.06
Ryan finds himself ensnared by the "End Game".
Responsibility
Jack Kukoda
Randal Einhorn
7/30/14
4.07
While Ryan helps his mother as she adapts her new life, Wilfred confronts a new enemy.
Courage
David Baldy
Randal Einhorn
8/6/14
4.08
Wilfred tries to convince Ryan to keep sensitive information from Jenna; Ryan is persuaded.
Resistance
David Zuckerman
Randal Einhorn
8/13/14
4.09
Ryan's hope is threatened as he faces seemingly unending challenges.
Happiness
David Zuckerman
Randal Einhorn
8/13/14
4.10
The truth about Wilfred is finally revealed.