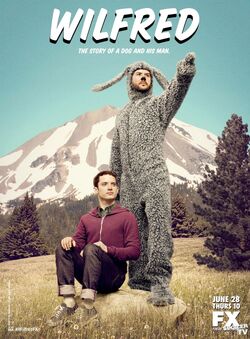 Season 2 of Wilfred (U.S. TV Series) began airing on June 21, 2012. It will consisted of 13 episodes and ended September 20, 2012.
Cast
[
]
Main Cast
[
]
Special Guest Cast
[
]
Recurring Cast
[
]
Guest Stars
[
]
Episodes (2012)
[
]
Image
Title
Writer
Director
Airdate
Episode
Progress
David Zuckerman
Randal Einhorn
06/21/12
2.01
Ryan realizes the consequences of not having Wilfred in his life.
Letting Go
Reed Agnew & Eli Jorné
Randal Einhorn
6/28/12
2.02
Wilfred refuses to help Ryan with his problems.
Dignity
Cody Heller & Brett Konner
Randal Einhorn
7/5/12
2.03
Ryan begins to notice that his canine friend's popularity may be causing problems for his own reputation amongst people they know, which leads to him trying to put an end to the adoring praise being received by the furry personality.
Guilt
Steve Tompkins
Randal Einhorn
7/12/12
2.04
Ryan must prevent Wilfred from waging war against an unlikely foe.
Now
David Baldy
Randal Einhorn
7/19/12
2.05
A traumatic experience creates unexpected consequences for Ryan and Wilfred.
Control
Scott Prendergast
Randal Einhorn
7/26/12
2.06
Ryan's plans to introduce Amanda to Jenna are complicated by Wilfred.
Avoidance
Jason Gann
Randal Einhorn
8/2/12
2.07
Wilfred and Ryan's friendship is threatened during a sticky encounter.
Truth
David Zuckerman
Randall Einhorn
8/9/12
2.08
Wilfred's nemesis returns with an offer that rocks Ryan's world.
Service
Reed Agnew & Eli Jorné
Randall Einhorn
8/16/12
2.09
An impromptu road trip leaves Wilfred, Ryan and his family in peril.
Honesty
Jason Gann
Randall Einhorn
8/23/12
2.10
Ryan and Wilfred go to extraordinary lengths to help Jenna's career.
Questions
Cody Heller & Brett Konner
Randal Einhorn
8/30/12
2.11
Ryan looks inward to discover the truth about Wilfred.
Resentment
David Baldy
Randal Einhorn
9/13/12
2.12
Wilfred sabotages Jenna and Drew's wedding on account of Ryan's jealousy.
Secrets
Story by: David Zuckerman

Teleplay by: David Zuckerman & Scott Prendergast

Randal Einhorn
9/20/12
2.13
Wilfred and Ryan are confronted by shocking existential questions about life and love.