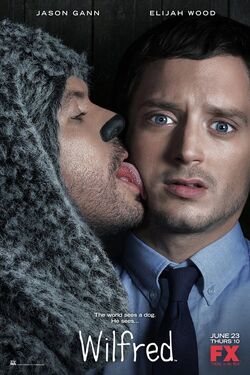 Season 1 of Wilfred (U.S. TV Series) began airing on June 23, 2011. It consisted of 13 episodes, and ended on September 8, 2011.
Cast
[
]
Main Cast
[
]
Special Guest Cast
[
]
Recurring Cast
[
]
Guest Stars
[
]
Uncredited
[
]
Episodes (2011)
[
]
Image
Title
Writer
Director
Airdate
Episode
Happiness
David Zuckerman
Randal Einhorn
06/23/11
1.01
After a failed suicide attempt, Ryan forms a unique connection with his neighbor's dog, Wilfred.
Trust
David Zuckerman
Randal Einhorn
6/30/11
1.02
Ryan betrays Wilfred's trust to gain favor with Jenna, but his deception yields an unexpected secret about her.
Fear
Eric Weinberg
Randal Einhorn
7/7/11
1.03
Ryan finally learns why Wilfred planted his wallet at the scene of the crime when Spencer comes around seeking vengeance.
Acceptance
Jason Gann
Randal Einhorn
7/14/11
1.04
Ryan's efforts to reconcile with his sister cause Wilfred to have a shocking experience at doggy day care.
Respect
Michael Glouberman
Randal Einhorn
7/21/11
1.05
Ryan and Wilfred volunteer at a hospice and discover Wilfred may have a remarkable secret talent.
Conscience
David Baldy
Randal Einhorn
7/28/11
1.06
Wilfred persuades Ryan to help him get rid of Jenna's boyfriend.
Pride
Jason Gann
Randal Einhorn
8/4/11
1.07
Wilfred's pursuit of a new love interest forces Ryan to swallow his pride...among other things.
Anger
Sivert Glarum & Michael Jamin
Victor Neil Jr.
8/11/11
1.08
When Wilfred learns that Ryan feels responsible for the death of his beloved childhood dog, he goes to otherworldly lengths to help Ryan learn the truth.
Compassion
Patricia Breen
Victor Neil Jr.
8/18/11
1.09
Ryan and Wilfred visit Ryan's mother, who turns out to be a major cannabis smoker, in a clinic. It is also revealed that Ryan's mother can communicate with her cat Mittens in the same way that Wilfred and Ryan communicate.
Isolation
Steve Baldikoski & Bryan Behar
Victor Neil Jr.
8/18/11
1.10
Wilfred uses Ryan's unhealthy habit of isolating as a means to rid himself of a neighborhood pest.
Doubt
Reed Agnew & Eli Jorné
Randal Einhorn
8/25/11
1.11
Ryan begins to suspect that his friendship with Wilfred may be self-destructive.
Sacrifice
Sivert Glarum & Michael Jamin
Randal Einhorn
9/1/11
1.12
Wilfred urges Ryan to sacrifice his newfound happiness for a greater good.
Identity
David Zuckerman
Randal Einhorn
9/8/11
1.13
Ryan ignores Wilfred's advice, creating an existential crisis for both of them.