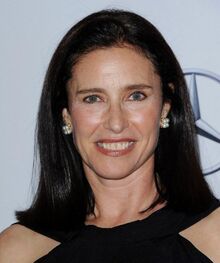 Mimi Rogers (Born Miriam Rogers) is an American actress, producers, and poker player. She portrays Catherine Newman in season four of Wilfred (US Series).
Biography
Edit
Mimi Rogers was born January 27, 1956 in Coral Gables, Florida to Philip C. Spickler and Kathy Talent. She attended accelerated schools before graduating from high school at age 14. Instead of going to college, Rogers studied independently while becoming involved with theatre and writing. She worked in a hospital for six years and was a part-time social worker during this time.
Roger's acting career began in 1981 when she made a television appearance in Hill Street Blues. At this time she shared living quarters with fellow actress Kirstie Alley. Her breakthrough role came in 1987 when she was cast in Someone to Watch Over Me.
Rogers modeled for Playboy magazine in 1993 for their March edition after the magazine had been pursuing her for years.
In later years, Roger was featured in Dawson's Creek, Dumb and Dumberer: When harry Met Lloyd, King of the Hill, and Two and a Half Men.
Rogers began participating in competitive poker in 2003 and is now one of the celebrities who participates in Hollywood Poker events.
Rogers has been married three times. Her first was to Jim Rogers from 1977-1980. She dated Tom Selleck, Christopher Reeve, and Bobby Shriver before marrying actor Tom Cruise in 1987. The two separated in 1989 and divorced in 1990 after Rogers sited intimacy issues. Her third and current marriage is to Chris Ciaffa whom she married in 2003 after having two children together.
Community content is available under
CC-BY-SA
unless otherwise noted.